Istanbul Gelisim University's graduation ceremony in the 10th year
5040 students from 92 departments graduated from Istanbul Gelisim University (IGU) in the 10th graduation ceremony. Alumni from many schools, faculties and graduate schools graduated in two different days.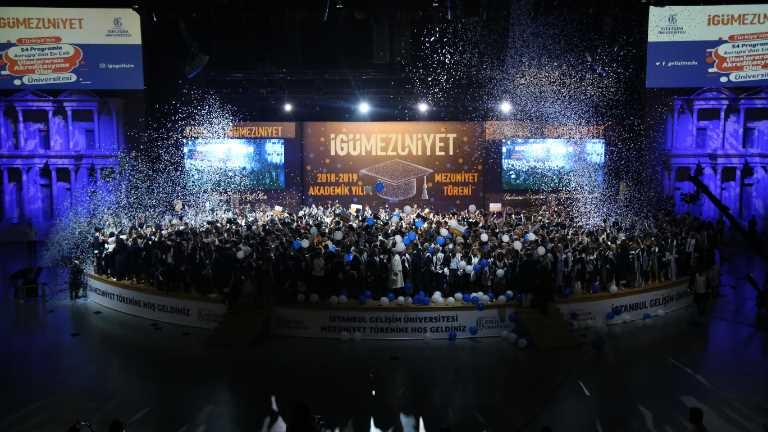 The graduation ceremony in Yahya Kemal Beyatlı Performance Center started with a moment of silence and the Turkish national anthem. Rector Prof. Dr. Burhan Aykaç and Chairman of the Board of Trustee Abdulkadir Gayretli made the opening speeches of the ceremony. Then, youngsters received their diploma getting on the stage grouped according their departments.
"WE HAVE THE QUALITY OF EDUCATION IN ACCORDANCE WITH INTERNATIONAL STANDARDS"
Rector Prof. Dr. Burhan Aykaç said: "Graduation days are the happiest days for both students and their parents and for universities. We are proud and happy. We have an important place in higher education. We train our students well and believe that they will be very successful. Although our university is a young university, our
54 departments are accredited
and have an educational quality in accordance with international standards. Our students' paths are clear, so get the chance."
"WE HAVE GREAT ACHIEVEMENTS"

Stating that they made great achievements in a short time on behalf of internationalization in the academic year of 2018-2019, Chairman of Board of Trustee Abdulkadir Gayretli said: "We attach great importance to the quality in accordance with the sustainability principle. Our goal is to train a productive generation. In this way, we support our students in many areas. We are in pursuit of providing added value to our country with our projects such as Flying Car, Electric Car and Pharmaceutical Device. We pursue innovations that have not been achieved yet."
"WE HAVE MADE SIGNIFICANT INVESTMENTS"

Stating that the academic year of 2018-2019 was full of success for the University, Vice Rector Responsible for Accreditation and Quality Prof. Dr. Nail Öztaş said: "We have made significant investments in many areas in accordance with our goal of becoming a world university. We started to get remarkable results. First of all, we made our campus the 3rd university which has the most indoor space per student in Turkey, adding over 285 thousand square meters closed areas for environment from our total investment. This was our first success. Secondly, we have considerably been investing in our human resources to become the university of the future. Without human resources and without qualified people, we cannot achieve anything. Istanbul Gelisim University has established a very qualified team of personnel with up to 1200 personnel. This year, we have been still hiring new international academic personnel from more than 1000 applicants."

Stating that we have made investments to researches, Öztaş said: "We are the patent application champion of 2017. We came in 2nd in in 2018. We started to get the results of all these efforts. As we started to rise in the world rankings, we managed to reach the finals as the only university representing our country with 7 universities in the evaluation of the internationalization strategy of the year by Times Higher Education (THE), one of the most respected higher education rating and ranking institutions in the world."